Transformational Gardening
Disclaimer: Foraging can be fun, rewarding and provide health benefits. As a novice forager, I will be sharing my foraging experiences. However, in order to be safe, always consult with local foraging experts and guidebooks before beginning foraging. Children should learn to forage safely by being guided by experienced adults. Never ingest anything unless you are certain of the identification and safety of the plant. Some plant species are inedible and some are poisonous.
Eastern White Pine (Pinus strobus)
Identification
Images from the USDA Plant Database for Eastern White Pine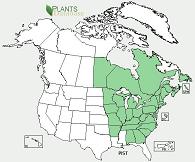 The largest Northeastern U.S. conifer. Straight trunk with limbs growing horizonally out from the trunk. Whorled, incremental braching (see video below). Blue-green needles, usually 2-1/2 to 5 inches long. Only native pine in the Eastern U.S. that has 5 needles per bundle. Bark is smooth on younger pines becoming furrowed on older pines. Cones are slender, thornless and long-stalked (4 to 8 inches long).

Range of growth in the U.S.: See image to the right or go to the USDA Plant Database for Eastern White Pine to see more details as to what counties the Eastern White Pine has been found in.



| | | | | |
| --- | --- | --- | --- | --- |
| | | | | |
Identifying Eastern White Pine
(2-Minute Video by Forestry Professor)
Food & Medicinal Uses
Contraindications: Do not drink pine needle/twig/bark tea when pregnant or if you are allergic to pine.
Pine Needle Tea
Relief from colds / flu
Headache and backache relief (inhalation of fumes of heated needles)
Anti-aging
Skin disorders
Grey hair
Removes physical and mental fatigue
Scurvy
Sore Throat
Pine Twig infusion
Kidney disorders
Pulmonary diseases
Pine Bark decoction
Rheumatism
Colds, cough
Breathing problems
Menopausal symptoms
Arthritis
Diabetic Leg Ulcers
Anti-Inflammatory
Pine Nuts
There is conflicting information as to whether pine nuts (seeds) from Eastern White Pine (Pinus strobus) are edible. In the book, Edible wild plants of eastern North America by Fernald, Kinsey and Rollings (c1943), on pages 78-79, the authors state:



More attractive food is to be found in the seeds of the pines, although none of the eastern species bears seeds comparable with the delicious fruit of some of the Nut Pines of the West. The seeds of the White and Norway Pines, are, however, sweet and nutritious, and Kephart suggests roasting to remove the resinous taste. The resin is less evident if the seeds are gathered in August at about the time of the opening of the cone.


The Plants for the Future database for Pinus strobus states:



Edible Uses: Seed - raw or cooked[102, 159]. Rather small and fiddly, it is only about 6mm long[200]. The seed is mainly used as a flavouring in cooking.


On the other hand, on page 17 of the article, The Secrets of Ringing Cedar Products (from the Ringing Cedars Almanac: Issue 1), Dr. Leonid Sharashkin states:



Siberian cedar's closet relative to North America is the Eastern white pine (Pinus strobus). However, unlike the Siberian cousin, Pinus strobus does not produce edible seed.
Web Page Links
Online Videos
The Pine Family (Pinaceae) As
Wild Food with Frank Cook
Food Sources of the Pine Family
Brewing Eastern White Pine Tea
References