Transformational Gardening
Disclaimer: Foraging can be fun, rewarding and provide health benefits. As a novice forager, I will be sharing my foraging experiences. However, in order to be safe, always consult with local foraging experts and guidebooks before beginning foraging. Children should learn to forage safely by being guided by experienced adults. Never ingest anything unless you are certain of the identification and safety of the plant. Some plant species are inedible and some are poisonous.
May 2014 Foraging Experiences
(Forward to: June 2014 Foraging Experiences)
May 5, 2014
Moving to Connecticult to be with my amazing and beautiful girlfriend! New plants! New adventures!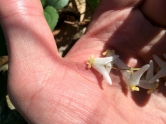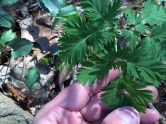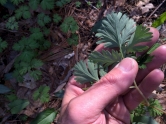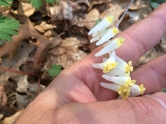 May 8, 2014
I made several dishes from Japanese Knotweed including soup, steamed and the Japanese Knotweed pickles below. Used a very large amount of peeled Japanese Knotweed (more than pictured below) and added a salt mixture (9 parts sea salt and 1 part nigari (magnesium chloride)) to the pickling container. I also added a bit of sauerkraut juice tohelp the fermentation start (although this may not be necessary).

Japanese Knotweed (Fallopia japonica) (Previously: Polygonum cuspidatum)
May 12, 2014
I am trying to catalog some of the plants within 200 yards of our new home in Southeastern Connecticut. The web page catalog can be found: here.




May 14, 2014
May 19, 2014
May 20, 2014
The backs of the leaves and twigs are very hairy compared to Lonicera x bella and Lonicera tatarica.


Sassafras (Sassafras albidum)
May 21, 2014
May 27, 2014
May 28, 2014
May 30, 2014