Transformational Gardening
Disclaimer: Foraging can be fun, rewarding and provide health benefits. As a novice forager, I will be sharing my foraging experiences. However, in order to be safe, always consult with local foraging experts and guidebooks before beginning foraging. Children should learn to forage safely by being guided by experienced adults. Never ingest anything unless you are certain of the identification and safety of the plant. Some plant species are inedible and some are poisonous.
May 2013 Foraging Experiences
(Back to: April 2013 Foraging Experiences)
May 5, 2013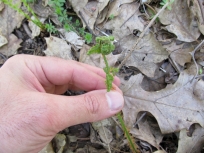 I found Ostrich Fern fiddleheads in the same location that I found Ostrich Fern last June. Notice some distinguishing characteristics:
Large amount of light brown, papery scales attached to the stem.
Growing in a rossette (circular pattern).
The stalk (frond) has a deep, wide groove on one side (much deeper and wider than on Wood Fern species)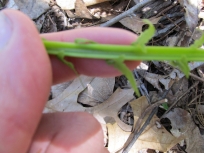 Orpine (Witch's Moneybags, Livelong, Frog's-stomach, Live-forever) (Hylotelephium telephium) (Previously: Sedum telephium)
American Basswood (American Linden) (Tilia americana) (Also known as: Tilia americana var. americana)
Common Blue Violet (Wooly Blue Violet) (Viola sororia)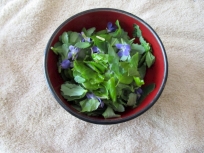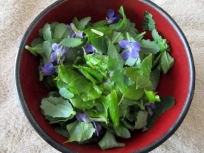 I made a salad of Orpine, violet leaves and flowers and American Linden tree leaves. The Linden tree leaves were small, so I didn't harvest too much. I will harvest more when they get bigger.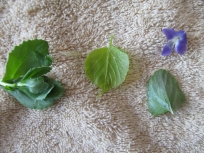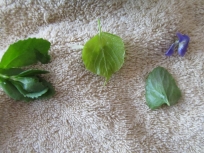 On the bottom right there are two pictures of Tower Mustard plants. I intended to add Tower Mustard flowers and stems to the salad, but they were not ready yet. They should be ready in a week or two.